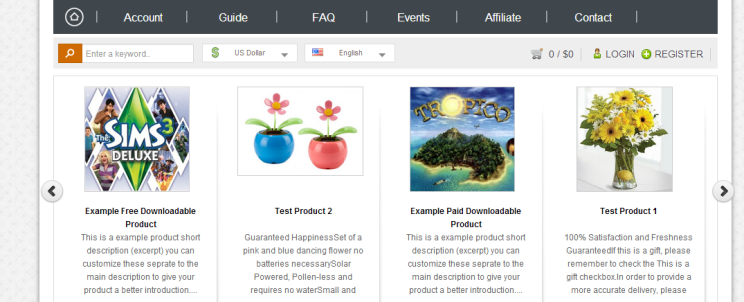 Deluxe E-commercial Shopping Package: Ecommercial Solution for Online Shop in Nepal
A powerful, search engine optimized, feature rich online shopping store that helps you setup your own online shop.
@ Rs 25,000/-
Domain.com/.net/.org
50 pages/ product
Three times maintenance per year
Possible Features:
1. Versatile Options
Website has a fantastic feature having versatile option; we develop modern online stores, digital download stores and catalog websites for your online shop.
2. Payment Gateways Incorporated
PayPal and Google check out incorporated. [Other payment gateways are also possible depending upon your need (Extra cost may applied).] (20+ possible payment gateways – PayPal + PayPal Payments Pro , World pay, Bank Transfer, Google Checkout, Authorize.net, Protx / SegPay, CC Avenue, Alert pay, eWay, 2checkout, Pay Fast, Pay Web, iDeal, NoChex, ePay, Realex and Money Bookers as well as Nepali payment system such as e-sewa).
3. Stock Management
This package have beautiful feature of stock management where you can manage your stock levels, updated stock as well as you can manage products too.
4. Featured & Related Products
You can highlight chosen and related featured products which are highlighted and appear at the top of search results.
5. Coupon Codes & Promotions
Coupon Code and Promotion is one of the beautiful features of this package where you can setup store promotions such as discounts for multiple purchases, free shipping as well as create coupons codes.
6. Custom Product Attributes
You can setup your own custom product attributes such as sizes, colors etc. as well as allow the user to upload an image file for product promotion.
7. Order management
The website will be built in with the proper function for the order management. The backend manger/helper area will have option for the order and invoice management.
8. Shipping
The website will have lots of built in shipping features such as free shipping, fixed price or shipping methods, weight based shipping and support for UPS shipping.
9. Email Manager
The website will be integrated with a built in email manager allowing you to send out newsletters to your members as well as setup customized emails for website events. (Register etc.)
10. Product Import from Amazon, eBay, Datafeedrt Imports
It is an amazing feature of economic package which allows you to quickly search through Amazon, eBay and Datafeedrt products and import them into your website.
11. Google Analytics and Ad Word
Another fantastic feature of e-commercial package which can help analyze, where people who click on your ads go once they reach your website. This information can help you improve your ads and your website.
12. Google Maps Management System
It's another fantabulous feature of this package having Google map management system, which includes maps have all of the Google maps features including; Street view and various map types. Store locations can easily add or edited within your site. Having the capability to create custom Google maps directly within your site is a nice visual supplement to your geo-related content.
13. Affiliate Management System
Another beautiful feature of this package is Affiliate Management system, where your traffic will increase and more visitors interested in your products will click through to your website. Increased number of back-links from multiple sources generates higher SEO. Higher SEO equates to increased sales opportunities.
14. Web based Admin Area (Admin, Manager, and Helper Account)
The great thing about this package is that everything is web based which means you can manage your website from anywhere in the world with internet access. You also have the helper account from which you can get help about your site management.
15. Global Tax, Per Country Tax & VAT Management
E-Commercial package supports all the necessary tax laws globally, and provides you the option to manage country and state taxes, global taxes and VAT tax options.
16. Customer Chat System
One of the beautiful features of the e-commercial package is Customer chat system which opens the door for your business to connect directly with your customers. Our chat system allows you to interact directly with visitors in the same way you would in a traditional retail store.
17. FAQ and Support Article Management System
In general Faq and Article plays vital role in website, Users look for quality information while visiting any website and for many it will be more of a learning process rather than a simple online purchase. Users love facts at the first place and they search for all the answer to their questions on your FAQ pages. You can highlight the selling points, salient features and benefits of your products and services in FAQ and article section to make sure that you reach out to the target.
18. Social Marketing System
Another important feature of this package is Social marketing system that helps businesses to grow each element of their Web strategy into a more harmonious. By harnessing the power of social media, this beautiful feature will modernize your business and give you a powerful platform to build your brand, connect more personally with customers and capture new revenue opportunities to fuel your growth.
19. Commercial Events Management System
Another nice feature is being able to attach companies to events. Companies will often host events, and giving them some recognition for it is a nice thing to do in return.
20. Email updates subscription Feature
It's beautiful features of this package which allow updating email and visitor can subscribe your website to receive your product updates.
21. Advertisement Management System
An amazing feature included in this package is advertisement management system which lets you to display advertisement in your website (header/footer left/left sidebars + category pages) so as to gather traffic.
22. Product Rating or, Voting Feature
It's another important feature of this package which has beautiful option to rate or vote for your product by visitors.
23. Website Layouts
We design your website layout with best appearance. The website layout can be easily changed to give new look of the front and remains pages.
24. Currency exchange
The price of the product and services website can be in up to 5 currencies.
25. Standard SSL
Security with Web transaction.
More Possible Feature:
Responsive Design Framework (Mobile Ready) – Adjusts to Browser Size
Logo design and Integration
YouTube Videos Integration
Photo Album with each product
Featured Article/ FAQ Article
Category Widget
Subscription Form Widget
Social Networking Icons Widget
Drop-Down Navigation
SEO Optimized, Web Promotion / Google.com/ yahoo.com / bing.com major Search Engine Submission.
Footer Widgets
Contact Form Integrated
Online Poll
User friendly login for site update. You can update your website yourself. We make your site your friendly.
Moderate level's CMS to accomplish the above listed tasks.
Spam protection Tools
@ Rs 17,000/- per year onward for domain, hosting, SSL and Twelve times maintenance per year.