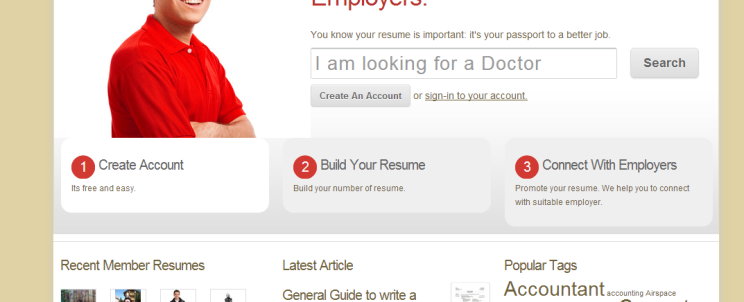 A powerful, search engine optimized, feature rich online Resume promotion that helps you setup your own online resume.
@ Rs 35,000/-
Domain.com/.net/.org
Unlimited pages/ product
Twelve times maintenance per year
Key Features:
1. Customized Skill Sets:
Users can set their skill captions and choose a rating 1 – 10 which will display as stars.
2. Favorite & Saved Searches:
Members can save their searches and browse through profiles adding the ones they link to their favorites list.
3. Contact Forms:
Online Resume package comes with built in contact forms allowing visitors to contact users with their job requirements or questions.
4. Search Engine Optimized:
Online Resume package will be design with search engine best practices to ensure your website ranks higher in search engines.
5. Membership Packages:
The Visitor of your Website can create free and paid membership packages displayed on the registration and account pages.
6. Available for Hire:
Online Resume package lets you display the available icon on your page when you are free to accept work.
7. Portfolio Display:
Online Resume package lets you attach files to your resume for users to view, this will create a portfolio setup for users to see your recent work.
8. Design Tools:
Online Resume package lets you setup the colors, layout and graphics displayed on your website.
9. Extra Functionality:
Online Resume package allows you to add-on extra functionality to your resume.
Possible Feature:
Responsive Design Framework (Mobile Ready) – Adjusts to Browser Size
Multiple Possible Styles
Multiple Currency
Multiple color choice integrated
Logo design and Integration
Featured Photos Slider
Alternate Home Page for Business Sites
YouTube Videos Integrated with Each Product
"Additional feature with each product with additional price" management system
Portfolio Page
Photo Album with each product
Category Widget
Subscription Form Widget
Social Networking Icons Widget
Drop-Down Navigation
SEO Optimized, Web Promotion / Google.com/ yahoo.com / bing.com major Search Engine Submission.
Footer Widgets
Contact Form
Online Poll
User friendly login for site update. You can update your website yourself. We make your site your friendly.
Moderate level's CMS to accomplish the above listed tasks.
And More
Price:  $ 404.39